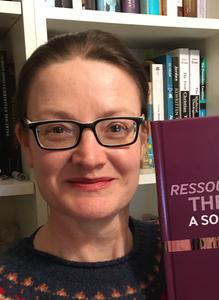 Dr Patricia Kelly
Honorary Senior Research Fellow
Research areas
Patricia Kelly worked in academic publishing and media relations before establishing a translation and editorial business specialising in theology. At the same time she returned to academic study, first with an MA in Theology (Leeds, 2007), and then a PhD (Durham, 2016). Her MA dissertation focused on the development of the concept of the church as Body of Christ during the twelfth century. Her PhD examined the theologies of work of Marie-Dominique Chenu OP, and Joseph Cardijn. Her research focuses on ressourcement theology, the twelfth-century renaissance, and the nineteenth-century French church.
She was Senior Lecturer in Catholic Studies at Leeds Trinity University from 2013 until 2019, where she taught undergraduate modules in Christian doctrine, Church history, and Scripture. She developed a pathway in Catholic Theology through the BA in Theology, and ran the Catholic Certificate for Religious Studies, a programme for teachers in Catholic schools in England & Wales.
She continues to enjoy translation work, translating books, chapters, articles, and for Church NGOS.
Her 'Ressourcement theology: A Sourcebook' will be published by T&T Clark later in 2020.
She is currently working on 'Ressourcement theology: A guide for the perplexed', also for T&T Clark.
She is co-investigator (with George Corbett) on the 'Mandonnet: Dante the Theologian' project.
Selected publications