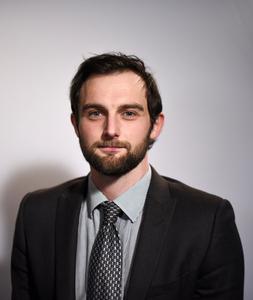 Dr Andrew Torrance
Director of Impact
Biography
Andrew Torrance is a Senior Lecturer in theology and a co-founder of the Logos Institute for Analytic and Exegetical Theology, alongside Alan Torrance. Prior to becoming a lecturer, he launched and led the programme Scientists in Congregations Scotland, which explored ways of creating a constructive conversation about science and faith within the life of the Church. Andrew received his doctorate from the University of Otago in 2013, which focused on Søren Kierkegaard's and Karl Barth's theology of conversion. 
Alongside his work in the Logos Institute, Andrew is currently (2019) a member of an interdisciplinary team of scholars, based at Baylor University, which is researching the nature of accountability as a relational virtue. As a part of this team, he is working on a monograph addressing the question of what it means for persons to live before God. Andrew is also a member of another interdisciplinary group of scholars, organised by Biologos, exploring the nature of human identity and personhood. Lastly, he is currently finishing up a book on Søren Kierkegaard and Karl Barth, which he is co-writing with Alan Torrance.
Aside from his academic work, Andrew is committed to ensuring that his theological work is publicly engaged. Among his various roles, he serves as: (1) theological advisor for Learn: an initiative promoting further theological teaching in the Church of Scotland and further afield; (2) a member of the Theological Forum for the Church of Scotland; (3) a member of the Advisory Council for the Grasping the Nettle initiative in Scotland; and (4) he has just finished up his time as member of the Society, Religion, and Technology Project: Looking at the Ethics of Technology for a New Millennium.
Grants (since 2013)
2018–2021   $134,966 (USD) from the Templeton Religion Trust to be a part of Baylor University's Research Project, 'Accountability as a Relational Virtue'
2018–2021   $100,000 (USD) from the Blankemeyer Foundation for a new series of James Gregory lectures on Science, Religion, and Human Flourishing (with Judith Wolfe and Eric Priest)
 2016–2020   £1,584,754 from the Templeton Religion Trust to co-run the Logos Institute for Analytic and Exegetical Theology (with Alan Torrance)
2016–2018   $50,000 (USD) from the John Templeton Foundation for a new series of James Gregory lectures on Science, Religion, and Human Flourishing (with Judith Wolfe and Eric Priest)
2016–2017   $3,500 (USD) for the project, 'What is distinctive about Christian conversion?'. This was a part of The Experience Project, run through the University of Notre Dame and the University of North Carolina at Chapel Hill, and funded by the John Templeton Foundation.
2013–2016   £509,389 from the John Templeton Foundation to lead the Scientists in Congregations, Scotland programme (with Ivor Davidson)
Teaching
DI1001 - Theology: Issues and History
DI4915 - The Theology of Søren Kierkegaard
DI4928 - Theological Anthropology
DI5350 - Analytic Theology: God, History, and Revelation
DI5351 - Reconciliation: Divine and Human
DI5352 - Persons: Divine and Human
PhD supervision
Tristan Cowell
Hannah James
Drew Everhart
Samuel Yule
Wade Bellesbach
Tessa Hayashida
Howard Martin
Aaron Davis
David Stuart
Christopher Whyte
Selected publications