Equality,Diversity and Inclusion
Fàilte! Welcome to our suite of webpages on the E,D&I services provided.‎‌‎
Equality Groupings/ Protected Characteristics
Diversity work recognition webpages:
Latest News:
Online 'Unconscious Bias Training Module launched! complete here

Inaugural Lecture: Excellence and Gender - Wed, 28 Sep 2016, 5:15-6:15pm, School III, St Salvator's Quad, Prof Ruth Woodfield (School of Management), open to all staff and students. The lecture will be followed by a reception in Lower College Hall.
How different religions look at sex and sexuality? Coexistence Initiative event 7-9pm 26 Sep 2016, Mansfield building (Chaplaincy).
The Divinity School's Centre for the Study of Religion and Politics, directed by Prof. Mario I. Aguilar, is hosting an international conference entitled 'Silence, Texts and Service: Towards a Christian, Hindu and Buddhist Dialogue' 23-25 Sep 2016. Within this conference, the 'St. Andrews Declaration for a Shared Humanity' will be signed by 120 religious leaders, politicians, ambassadors, and school children from the UK, Canada, and India.

The Baby and Child Lab is hosting a Family Fun Day - Sat 1 Oct, 10am to 2pm, School of Psychology & Neuroscience, St Mary's Quad.
Have you ever looked at your child and wondered: "How did you learn that?" Taster of the games the lab coordinators play to try to understand how children think and learn. There will be lots of fun activities, a bouncy castle and opportunities to participate in some of the lab's current studies. Contact Geraldine Brown on gb80@st-andrews.ac.uk or extension 2063.
Stonewall LGBT Staff Workplace Equality Survey live until 4 Nov 2016
LGBTQ+ Staff Network 2016/17 - first Weds lunch-time of the month 12:15-1:45pm, to attend email: diversity@st-andrews.ac.uk
Updated 'Equality Briefing: Race, Religion and Belief' online including Hate Crime awareness Equality Briefing Race, Religion and Belief (PDF, 437 KB)
Academics: To attend 'HEA Equality in the Curriculum Workshops' in CAPOD (Fri 25 Nov or Wed 14 Dec 2016 1-4pm) email: diversity@st-andrews.ac.uk
Gender and Prestige in Academic Work Thu 2 June 2016, 12-1:30pm
How is academic prestige affected by gender? The St Andrews members of the Young Academy of Scotland invite mid-career academic staff colleagues to participate in a discussion lunch with Kelly Coate (King's, London). Kelly is co-author of 'Mid-career academic women: choices, opportunities, strategies' and 'Indicators of esteem: gender, prestige and academic work'.
Connection in Advanced Dementia 24 May 2016 at 12-1:30pm + 7pm, Byre Theatre.
As part of Dementia Awareness Week, Dr Maggie Ellis of the School of Psychology & Neuroscience will give a lecture about a new approach to communicating with individuals with advanced dementia called 'Adaptive Interaction'. Audience members will receive a book on the approach, which is included in the ticket price.
Chrysalis In collaboration with artist Sophie McKay Knight, has started to address issues of diversity in science as they exist in our corner of the globe. The paintings are on display in the Byre Theatre, University of St Andrews March-April 2016 as part of Sophie's solo exhibition launched as a satellite event of the Women in Science Festival - blogpost: Biochemical Society Diversity in Science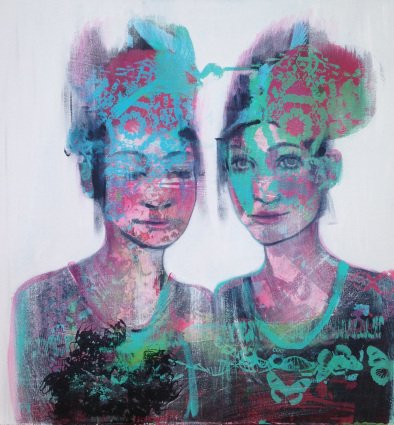 Gender-neutral toilets and changing facilities introduced in University buildings
Co-existence Initiative Annual Conference
10am-5pm, Sat 16 April 2016, Parliament Hall.
This year, the theme is 'At The Crossroads' and we shall explore where people, societies, ideas and movements meet, and the nature of that interaction. In a year when there has been so much change and upheaval, join us for a conference which will challenge you, anger you, educate you, and inspire you - list of speakers:
Dr. Anindya Raychaudhuri - School of English.
Prof. Derek Duncan - School of Italian.
Prof. Ali Ansari - School of History.
Dr. Akhila Yechury - School of History.
Dr. Jeffrey Murer - School of International Relations.
Prof. Ali Watson - School of International Relations.
Mehri Niknam MBE - Founder and Executive Director of the Joseph Interfaith Foundation.
Getting More Woman into Tech Careers - Lecture by Dr Maria Klawe
Open to: All staff and students, Alumni and Public
Weds 30 March 2016, 5:45 PM to 6:45 PM, Physics Lecture Theatre A
A renowned mathematician, computer scientist and scholar, Dr Klawe is the first woman to lead the College since its founding in 1955. Prior to joining Harvey Mudd, she served as dean of engineering and professor of computer science at Princeton University.
Race and Racism in Higher Education
5pm, Weds 2 Mar 2016 - St Mary's College, Lecture Room 1
"Witness" (a film produced by UCU and chronicling the lived experiences of UCU black members in post-16 education)
Roundtable discussion: Jackie Ashkin, SRC Member for Racial Equality; Dr Lenore Bell, School of English; Dr Akira O'Connor, School of Psychology; Dr Gurchathen Sanghera, School of International Relations.
Race Equality in HE 2 Mar 2016 (PDF, 1,430 KB)
‌
St Andrews LGBT Pride Parade: Sat 6 Feb 2016 - commencing from St. Salvator's Quad at 12pm and begin to march at 12:30pm culminating at the Students Union (St Mary's Place), stalls from organisations in the Main Bar area from 1pm - download map: St Andrews Pride Parade 6 Feb 2016 (PDF, 745 KB)
‌
#HolocaustMemorialDay Peir Walk, 7pm 27 Jan 2016 by University student Interfaith Steering Group & Equal Opportunities Committee. Vigil includes reflections, poems, music and a time of silence, and will culminate in the lighting of candles as an act of remembrance. All staff, students and others of any faith or philosophy are welcome.
One World Exhibition: Exploring Cultures (14 Jan – 30 Oct 2016) Museum of the University of St Andrews (MUSA), 7a The Scores, St Andrews (free admission)
‌
University named in THE 'Top 10 Universities for Overseas Students'
University's first V-P Equalities Champions endorsed by the Principal:
Toolkits:
Briefings & Guidance:
‎‎‎