Prof Julie Harris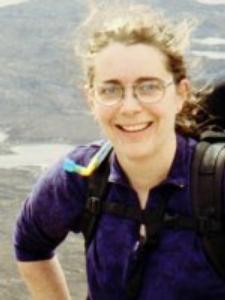 Biography
My first degree was in Physics (BSc) from Imperial College, University of London. I then moved into perception, studying for a DPhil on Binocular Vision, at the University Laboratory of Physiology, Oxford, supervised by Andrew Parker. I went on to a postdoc position at the Smith-Kettlewell Eye Research Institute, San Francisco, USA, working with Suzanne McKee. I then became a lecturer in Neuroscience at the University of Edinburgh, later moving to Newcastle as Lecturer (then Reader) in Psychology. I moved to St. Andrews in 2005.
BSc - Imperial College London, Physics.
DPhil - Oxford University, University Lab of Physiology
Postdoc - Smith-Kettlewell Institute, USA.
Lecturer - University of Edinburgh
Lecturer - Newcastle University
Research overview
The visual system is required to organise and process the vast amount of visual information that is available from the environment. The study of human visual processing allows one to ask questions such as what environmental information the visual systemis able to make use of, what it uses it for, and how well it is able to use that information. In my laboratory, psychophysical, behavioural and computational techniques are used to explore the basic processes underlying human visual perception and its links to motor action. Current research projects focus on the following areas: vision and camouflage, cue combination in depth and shape perception, colour-depth interactions, binocular stereopsis, three-dimensional motion, locomotion and eye movements in the natural environment, early spatial vision, stereo display technologies and the nature of visual representations.
Highlighted publications
Beattie, L, Curran, W, Benton, CP, Harris, JM & Hibbard, PB 2017, 'Perceived duration of brief visual events is mediated by timing mechanisms at the global stages of visual processing' Royal Society Open Science, vol. 4, 160928. https://doi.org/10.1098/rsos.160928
DOI: https://doi.org/10.1098/rsos.160928
Full text: https://research-repository.st-andrews.ac.uk/bitstream/10023/10387/1/Harris_2017_RSOS_BriefVisualEvents_CC.pdf
2017
MacKenzie, AK & Harris, J 2017, 'A link between attentional function, effective eye movements and driving ability' Journal of Experimental Psychology: Human Perception and Performance, vol. 43, no. 2, pp. 381-394. https://doi.org/10.1037/xhp0000297
DOI: https://doi.org/10.1037/xhp0000297
Full text: https://research-repository.st-andrews.ac.uk/bitstream/10023/9264/5/MacKenzie_2016_Link_JEPHPP_CC.pdf
2017
Cuthill, I, Sanghera, S, Penacchio, O, Lovell, PG, Ruxton, GD & Harris, J 2016, 'Optimizing countershading camouflage' Proceedings of the National Academy of Sciences of the United States of America, vol. 113, no. 46, pp. 13093-13097. https://doi.org/10.1073/pnas.1611589113
DOI: https://doi.org/10.1073/pnas.1611589113
Full text: https://research-repository.st-andrews.ac.uk/bitstream/10023/10697/1/Cuthill_et_al_PNAS_authors_accepted_version.pdf
2016
Curran, WI, Benton, C, Harris, J, Hibbard, PB & Beattie, L 2016, 'Adapting to time: duration channels do not mediate human time perception' Journal of Vision, vol. 16, no. 5, 4. https://doi.org/10.1167/16.5.4
DOI: https://doi.org/10.1167/16.5.4
Full text: https://research-repository.st-andrews.ac.uk/bitstream/10023/8416/1/Curran_2016_JOV_CC.pdf
2016
Cammack, PPK & Harris, J 2016, 'Depth perception in disparity-defined objects: finding the balance between averaging and segregation' Philosophical Transactions of the Royal Society. B, Biological Sciences, vol. 371, no. 1697, 20150258. https://doi.org/10.1098/rstb.2015.0258
DOI: https://doi.org/10.1098/rstb.2015.0258
Full text: https://research-repository.st-andrews.ac.uk/bitstream/10023/8980/1/Cammack_2016_DepthPerception_PTRS_CC.pdf
2016
Personal websites