Dr Dhanraj Vishwanath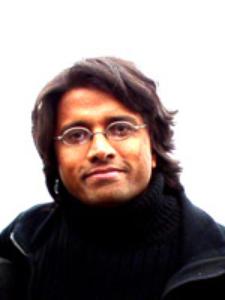 Biography
I obtained my PhD in Cognitive Psychology at the Department of Psychology and the Center for Cognitive Science at Rutgers University. My dissertation, supervised by Prof. Eileen Kowler, was on the linkage between perceptual representation and eye-movement control. I did postdoctoral research in 3D perception with Prof. Martin Banks at the University of California, Berkeley, where I was supported by an NIH Ruth Kirshtein Postdoctoral Fellowship. I started a assistant professor position at the department of Psychology at the Rochester Institute of technology in 2005 and moved to St. Andrews in 2007.
M.Arch: University of Buffalo, (SUNY)
PhD: Rutgers University, Department of Psychology and the Center for Cognitive Science
Postdoctoral Research: University of California at Berkeley, Vision Science Program
Research overview
Dhanraj Vishwanath's research interests lie in 3D space and object perception. His current research focuses on surface representation, depth perception, pictorial perception, and the linkage between perception and eye movements. He has a special interest in foundational issues in computational approaches to perception, as well as applications of visual perception research to aesthetics, design and human factors.