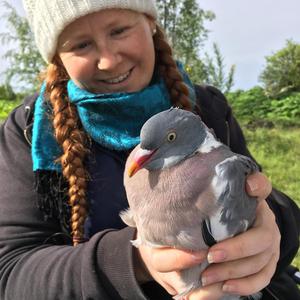 Dr Sophie Edwards
Associate Lecturer
Biography
2015 - 2019 PhD, University of St Andrews
The role of temperature and the brain in nest builidng in birds
Supervisors: Professor Susan D. Healy (University of St Andrews) and Professor Simone L. Meddle (University of St Andrews)
2013 - 2014 MSc Animal Behaviour, University of Exeter
Effects of chromaticity on the use of high or low spatial frequency information in current and subsequent discrimination tasks: evidence of conditioning history
Supervisor: Professor Stephen E. G. Lea
2007 - 2010 BSc (Hons) Animal Behaviour, University of Sheffield
Teaching
PS2001: Advanced Principles of Psychology I
PS2002: Advanced Principles of Psychology II
PS3021: Research Design & Analysis I
PS3022: Research Design & Analysis II
PS4040: Psychology Review
PS4050: Psychology Project (30)
PS4094: Communicating Psychology & Neuroscience
PS4096: Mechanisms of Behaviour
PS4108: Animal models in Psychology & Neuroscience
PS4299: Psychology Project (60)
PN4299: Neuroscience Research Project
PS5002: Psychology Masters Research Project
PS5021: Methodologies for Psychology & Neuroscience
BL5599: Biology Research Project
Research areas
Research interests: comparative psychology, animal behaviour, educational psychology, human perception online
I am interested in supervisng MSc, MRes and PhD students.
The Edward's lab research animal behaviour and the mechanisms and enviromental factors that control behaviour. We predominately work on avian species in the field (e.g. blue tits), in the laboratory (e.g. zebra finches), and in other captivity settings (e.g. gentoo penguins, Edinburgh Zoo). At present, we researching factors that influence nest design - for example environmental factors (temperature, camouflage), breeding success, or personal preference.

The Edward's lab is also interested in educational psychology, particularly in the effectiveness of lecture capture. We are currently investigating factors that impact information recall in an online learning environment, as well as what cues people use to make judgements when communicating using online platforms.
http://sophiecedwards.weebly.com
Selected publications