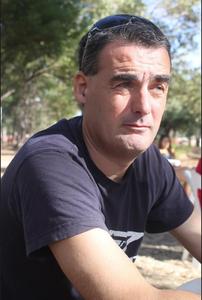 Prof Simon Driver
Honorary Professor
Teaching
Since joining St Andrews Simon has developed much of the extra-galactic astrophysics programme including: Observational Cosmology (4th year), Galaxies (3rd year), Nucleosynthesis and the Chemical evolution of the Universe (2nd year), and Galaxies and Cosmology (1st year), and has also taught courses prepared by other staff members on: Galactic Astronomy (2nd year), Observation Techniques (2nd year), and Observational Astrophysics (3rd year lab). As Director of the Observatory Simon developed the undergraduate Observer Training course and oversaw the outreach campaign which included: Observatory open nights, planetarium visits to local schools, tours of the St Andrews' Observatory, and the physics and maths contributions to the STEM astronaut programme.
Research areas
Simon Driver is primarily involved in the design and production of major extragalactic surveys, and is the principal investigator of the Millennium Galaxy Catalogue (MGC) and the Galaxy And Mass Assembly (GAMA) surveys.
He was previously a member of the Hubble Space Telescope Medium Deep Survey (HST MDS), and the two-degree field Galaxy Redshift Survey (2dfGRS) which was awarded the RAS prize for group achievement in 2008.
Simon's current research is focussed on the evolution of mass, energy, and structure (1kpc-100Mpc scales) from the epoch of reionisation (i.e., 0.5Gyrs after the Big Bang) until the present day. The GAMA survey in particular is breaking new ground by providing the most extensive catalogues to date of the filamentary structure of the Universe, galaxy group associations, galaxy bulge-disc decompositions, and the total energy outputs (UV-radio) of individual systems based on a sample of 250,000 galaxies. The GAMA sample is based on spectroscopic observations from the Anglo-Australian Telescope and supporting imaging observations from three space missions (GALEX, WISE and Herschel), four ground-based telescopes (SDSS, VST, UKIRT, VISTA), and two radio interferometers (GMRT, ASKAP - currently under construction in Western Australia).
GAMA is very much focussed on the nearby Universe however future surveys are likely to include Euclid and JWST to extend our understanding of mass, energy and structure to earlier times.
Selected publications