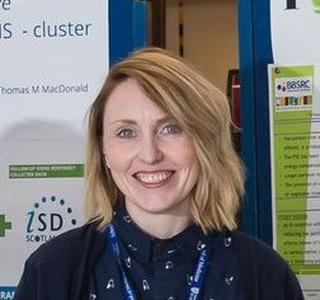 Dr Sharon Carstairs
Research Fellow
Biography
I obtained my BSc Hons in Physiology, Sports Science and Nutrition from the University of Glasgow in 2004. I went on to work within Dundee City Council as an Eating for Health Advisor in a local primary school whilst piloting a healthy eating initiative in Dundee after-schools clubs.
In 2006 I became a Teaching Assistant at the University of Abertay Dundee where I lectured and co-ordinated modules in the fields of Nutrition and Physiology to a wide variety of undergraduate students.
I comlpeted my PhD at the University of Aberdeen graduating in June 2017. My research, titled "Determinants of seafood provision and exclusion by mothers during infant and young child feeding: An exploration using a mixed methods design? ? provided the opportunity to learn and develop knowledge and skills of mixed methodologies including; - quantitative surveys, focus group discussions, internet discussion forums, and Q Methodology think aloud interviews.
I was employed at the University of St Andrews in 2016 on a collaborative project entitled ?Downsizing meal items in the pre-school using variety, repeated exposure and learning to acquire portion control?. In July 2018 I was employed as a Research Fellow working on a NHS Fife Endowment Fund project ?Increasing physical activity levels: Designing a pathway to community-based and volunteered-led physical activity programmes?.
Research areas
I have an interest in research and teaching within the field of health improvement; specifically within the fields of nutrition and physical activity. I have experience of mixed methods research design and in addition I have interests in co-design and participatory research.
Selected publications