Gender Events
Dr Francesca Sobande, Black Women and the marketplace in the UK

17 Dec, 12-1pm, School 5, United College for the talk and discussion, after which they will move to the Hebdomadar's Room for networking and further discussion over tea, coffee and vegan cake.
Please register via Eventbrite for catering purposes.
Digital advancements and the rise of social media have expanded and changed the ways that black women in Britain are depicted in media, both online and offline. Dr Francesca Sobande (Edge Hill University, UK) will draw on her research on the media experiences of black women in Britain to facilitate a discussion on the intersections of racism, sexism and capitalism.
How are the lives of black women in Britain influenced by online content and communication? How do their online experiences shape processes of cultural production? How are the intersections of racism, sexism and capitalism entangled with these issues? In this Early Career Women's Network event, Dr Sobande will draw on her research related to the media experiences of black women in Britain to answer some of these questions.
Dr Sobande is a Lecturer in Marketing and Advertising at Edge Hill, where her research focuses on issues concerning race, gender, media and the marketplace. She is the co-editor with Akwugo Emejulu of the forthcoming To Exist is to Resist: Black Feminism in Europe (Pluto Press, 2019). She is also the author of The Digital Lives of Black Women in Britain (Palgrave Macmillan, 2020).
Prof Carron Shankland (University of Stirling): How did I get here? Being and becoming a professor
When: Tue, 27 November 2018, 2-3pm
Where: Cole 1.33a, School of Computer Science
Series: School Seminar Series
For: Staff/students
Network for Equality, Diversity and Inclusion seminar series: Prof. Barbara Risman
"From sex roles to gender as a social structure: Implications for organisational change"
Date: Wed 30 May 2018, 12-1:30pm
Venue: Lecture Room 4, School of Management, The Gateway
Please register your attendance by emailing Jasmin Hinds (jah30@st-andrews.ac.uk) by 24 May 2018.
Gender, Diversity and Inclusion Research Conference - 8 May 2018, 10am-4pm, Parliament Hall, University of St Andrews.
This event celebrates the first year of the University of St Andrews' Gender, Diversity and Inclusion Research Fund, which provides pump-priming funding for research projects focussed on that theme. Speakers include those funded in the first round of the scheme, who will be reporting on their research to date and their future plans, along with specially invited presenters from St Andrews and further afield.
Prof Iyiola Solanke, University of Leeds - Where are the black female professors in the UK?
Session 1: Chair, Prof Ruth Woodfield
Session 2: Chair, Prof Sharon Ashbrook
Closing Keynote: Dr Gurchathen Sanghera
Conclusion: Principal, Prof Sally Mapstone
The Women Who Shaped St Andrews - 13 April 2018 7:15pm-8pm
Open to: All staff, students and the public.
Venue: Museums and Collections University of St Andrews (MUSA), 7a The Scores, St Andrews
Enjoy an exclusive screening of our short documentary, 'The Women Who Shaped St Andrews' and discover the legacies of the powerful female benefactors who influenced everything from natural history research to student accommodation. Ponder the reasons why stories of these women are often 'hidden' from view, and join us as we celebrate their contribution to the University we know today. View the Enduring Gifts exhibition before settling down to the documentary.
Inspiring Women - Wed 7 March 2018, The Old Course Hotel, Old Station Road, St Andrews, KY16 9SP.
Times:
5:30pm – Networking + Sandwiches, hot & cold drinks
6pm – Speakers + Q&A
7pm [Approx] – Networking, sandwiches and drinks
8 March 2018 is International Women's Day. On the eve of this annual celebration of the contribution women have and continue to make to our world, St Andrews Business Club is honoured to have inspiring women who have achieved much to date in their careers and lives share their stories, lessons learned and advice to other women.
Speakers: Prof Sally Mapstone, Principal (keynote), and Nicola Dames, Founder, Vanilla Blush
International Women In Science Day
5:30-8:30pm, Club 601 (in the Students' Union building) free event for staff/students and public.
The day in which we can celebrate, admire, and try to understand the forces of nature which have triumphed in adversity. Scientists such as Jane Goodall and Marie Curie are well known, however, countless other female scientists have had major impact on the world go unnoticed by most other than the select few. In honour of this day the Biology Society, in conjunction with SUMS, Physoc & Chemistry are hosting a talk-panel with female scientists from Biology, Physics, Maths & Chemistry, and a presentation by our guest speaker Prof Clare Peddie, Head of the School of Biology.
'Working at the crossroads between evidence and practice to achieve gender equality'
Mon 12 Feb 2018, 1-2:30pm, The Boardroom, University of St Andrews, The Gateway building, North Haugh, St Andrews, KY16 9RJ
Led by Dr Nikola Balvin, Knowledge Management Specialist, UNICEF Office of Research
To attend please email Jasmin Hinds - jah30@st-andrews.ac.uk by 6 Feb 2018. Please do specify any dietary requirements.
'Academic Women Here! On being a female academic at the University of St Andrews' - launch event led by the Principal
11am-12pm Mon 5 Feb 2018, School of Chemistry Common Room (Purdie Building, North Haugh) RSVP by 29 Jan 2018 here
Early Career Women (EWC) Network launch and lunch
Thursday 30 Nov 2017, 12-2pm, Parliament Hall, University of St Andrews, St Mary's College, South Street.
All staff are invited to the launch of the ECW Network, aimed at providing a space for like-minded, self-defining women to come together to discuss topics of mutual interest in a supportive environment. The network will organise invited talks and networking sessions, among other events, that will focus on the many-faceted working lives of early career women (final year PhD up to eight years post-PhD). The network is run by early career women, for early career women and will kick-off with an invited talk by Professor Aileen Fyfe, a historian who co-edited Academic Women Now! (2016) and is currently co-organising a project on the experiences of mid-career women here at St Andrews. After the talk there will be a chance to discuss what people would want from the ECW Network.
Professor Dame Linda Partridge: Ageing Healthily

Friday 10 Nov 2017, 1-2pm. Venue: Byre Theatre Auditorium, University of St Andrews

The School of Biology recognises the United Nations International Day of Women and Girls in Science with a public lecture introduced by Principal Professor Sally Mapstone and presented by Professor Dame Linda Partridge, leading scientist in the field of ageing and ageing-related diseases. Her lecture, 'Ageing Healthily', discusses some of the recent discoveries made on preventing ageing in humans without side effects, from repurposing existing drugs to understanding environment and dietary restrictions.
Gender Diversity in Mathematics Event
Weds 19 April 2017, 1-4pm, Maths Theatre A
The goal of the event is to start a discussion on what we as a larger community can do to support women and gender minorities in maths.
Women and the academic career
Date: Wed 10 May 2017.
Time: 13.30-16.30.
Venue: Byre Theatre Top Floor Studio
Key details: Examine the obstacles for women in the academic career, self-sabotaging patterns and how to avoid them in grad school, the job search, and the tenure track. Focuses on self-promotion, negotiating, childcare, work-life balance.
Target audience: Academic/research staff and research postgraduate students in all disciplines.
Course mapped to: Vitae's Researcher Development Framework domains: B2 (Self-management) & B3 (Professional & career development).
Weblink to attend: https://www.st-andrews.ac.uk/pdms/index.php?Mode=Search&AudienceID=0&CourseID=7054
Contact details: capod@st-andrews.ac.uk
Course information
In this interactive workshop, Dr Kelsky (author of The Professor is In) examines the main challenges for women in the academic career, and offers specific strategies for confronting and overcoming them. You'll learn about:
The male-centric model of the academic career track
The tenure track and the biological clock
The perils of "nice" Unconscious self-sabotaging habits
The scourge of Imposter Syndrome
Techniques of self-promotion
Assertiveness in language and body language
Pitfalls for women on the job market
Interviewing strategies
Negotiating effectively
Achieving work-life balance
Aims and objectives
By the end of this workshop you should be able to:
Understand the particular challenges for women in the academic career
Recognise self-sabotaging habits of speech and body language
Confront imposter syndrome
Know how to self-promote and negotiate effectively
Gain strategies for work-life balance
International Women's Day events:
Sister sit out
Female St Andrews students are calling on all women in town to join them in a 'sit-out' next week (Wednesday 8 March) to mark International Women's Day. A group led by MLitt student Danielle Gold is looking for fellow females to take part in the event which is supported by the UCU, Women for Women International and HerCampus.
1-4pm Wed 08 March, St Mary's Quadrangle, University of St Andrews. Contact Danielle on dsg6@st-andrews.ac.uk
She said, "We are calling all women in St Andrews – students, University staff and residents – to participate in a 'sit-out' event in St Mary's Quadrangle. The aim is to have a peaceful, inclusive afternoon where we will host speakers to talk about what it means to be a woman, women's issues (particularly within the current political climate) and ultimately to show solidarity with fellow women living in St Andrews and across the world. We want you to be able to make it your own, whether you want to communicate your ideas and listen to others all afternoon or drop in for a few minutes between class or work. This event is open to everyone but is primarily a celebration of International Women's Day and therefore our priority is to amplify women's voices."
Art + Feminism Wikipedia Edit-A-Thon
11am-3:30pm Wed 08 March 2017, Hebdomadar's Room, St Salvador's Quad, University of St Andrews.
Open to All staff, students and public. Contact Dr Catherine Spencer Dr Stephanie O'Rourke (Lecturers in the School of Art History).
Wikipedia's gender trouble is well documented. Those who identify as women/non-binary are significantly underrepresented on Wikipedia – both in terms of its contributors and its content. Let's change that. Join us for a communal updating of Wikipedia entries on subjects related to art and feminism. People of all gender identities are welcome! Participants are invited to join for part or all of the session – and even if you don't intend to edit, please stop by to show your support.
Annual lecture in the History of Women, Gender and Sexuality
5:15-7:15pm Wed 08 March 2017, School I, The Quad, followed by a reception in The Undercroft, St John's House, University of St Andrews.
Open to All staff, students and public. Contact Dr Bridget Heal (Senior Lecturer, School of History).
Prof Sasha Roseneil, of the University of Essex, will present 'Intimate Citizenship: what difference have social movements made?' as this year's lecture in the History of Women, Gender and Sexuality.
UN's International Day of Women and Girls in Science (11 Feb 2017) the following 7 University female scientists provided inspiring case studies and what advice they would give to females looking to pursue a career in science:
Gender & Equalities Research Event - Mon 6 Feb 2017, 1-3pm, Gateway Boardroom, University of St Andrews
Invite to anyone interested in research on gender inequalities, as well as other forms of inequalities (e.g. based on ethnicity, socio-economic class etc.), to this event. We will hold speed presentations, of no longer than 5 minutes. Anyone who wishes to do so can present key elements of their related research or more general grounds of their interest in the area. Aim is to establish shared concerns/research foci in order to foster new collaborations across disciplines. Although we are currently a small group of researchers, we already have representatives from several Schools within the University and are looking to broaden our expertise further.
Presenters: Boyka Bratanova, Gillian Brown, Kate Cross, Ian Gent, Nina Laurie, Sharon Leahy and Ruth Woodfield.
Informal event, and everyone is welcome - lunch will be provided. RSVP to: Sharon Leahy
Athena SWAN Lecture: Life, Death and a Career in Academic Medicine - Fri 18 Nov 2016, 2-3pm, Booth Lecture Theatre, School of Medicine (free event) open to staff and students.
The Science of Sex Differences - Fri 30 Sep 7-8pm, Studio Room, The Byre (free event) Dr Kate Cross (School of Psychology and Neuroscience).
Inaugural Lecture: Excellence and Gender - Wed, 28 Sep 2016, 5:15-6:15pm, School III, St Salvator's Quad. Prof Ruth Woodfield (School of Management) Open to All staff and students. The lecture will be followed by a reception in Lower College Hall.
The Baby and Child Lab is hosting a Family Fun Day - Sat 1 Oct, 10am to 2pm, School of Psychology & Neuroscience, St Mary's Quad.
Have you ever looked at your child and wondered: "How did you learn that?" Taster of the games the lab coordinators play to try to understand how children think and learn. There will be lots of fun activities, a bouncy castle and opportunities to participate in some of the lab's current studies. Contact Geraldine Brown
Gender and Prestige in Academic Work - Thu 2 June 2016, 12-1:30pm
How is academic prestige affected by gender? The St Andrews members of the Young Academy of Scotland invite mid-career academic staff colleagues to participate in a discussion lunch with Kelly Coate (King's, London). Kelly is co-author of 'Mid-career academic women: choices, opportunities, strategies' and 'Indicators of esteem: gender, prestige and academic work'.
In collaboration with artist Sophie McKay Knight, has started to address issues of diversity in science as they exist in our corner of the globe. The paintings are on display in the Byre Theatre, University of St Andrews March-April 2016 as part of Sophie's solo exhibition launched as a satellite event of the Women in Science Festival - blogpost: Biochemical Society Diversity in Science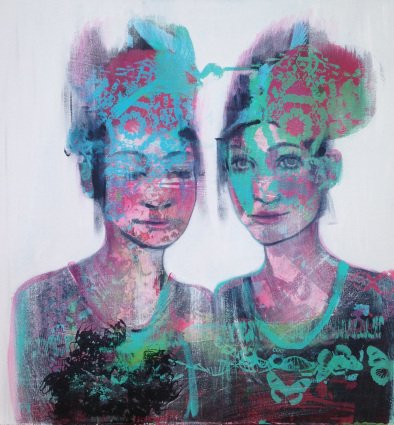 Getting More Woman into Tech Careers
Lecture by Dr Maria Klawe
Open to: All staff and students, Alumni and Public
Date: Weds 30 March 2016
Time: 5:45 PM to 6:45 PM
Venue: Physics Lecture Theatre A
Contact: email 600@st-andrews.ac.uk
Website: http://carnegie.wp.st-andrews.ac.uk/
Maria Klawe became Harvey Mudd College's fifth president in 2006. A renowned mathematician, computer scientist and scholar, Dr Klawe is the first woman to lead the College since its founding in 1955. Prior to joining Harvey Mudd, she served as dean of engineering and professor of computer science at Princeton University. Dr Klawe has made significant research contributions to and held numerous leadership roles in the areas of mathematics and computer science. Maria received her PhD (1977) and BSc (1973) in mathematics from the University of Alberta. Doors open at 5.15pm and seats are available on a first-come, first-served basis. All welcome.
Feminism in Islam Conference, Buchanan Building, University of St Andrews Tue 10 Nov 2015 6:30-9pm
St Andrews' very own Feminist Society and Islamic Society are proud to present their inaugural collaboration, a moderated panel discussion featuring preeminent academics, practitioners, and student activists speaking on the topic of 'Feminism in Islam' followed by a question and answer session- guests include:
- Julie Siddiqi, former Executive Director of the Islamic Society of Britain
- Dr Jasmine Gani, Lecturer in International Relations at the University of St Andrews specializing in Feminism and Women's Activism in the Middle East
- Zara Mohammed, former President and current Vice President of the Federation of Student Islamic Societies (FOSIS)
- Dr Maryam Ghorbankarimi, Teaching Fellow in the School of Modern Languages at the University of St Andrews
- A representative of the Glasgow based charity AMINA which aims to 'inspire Muslim women to fulfil their true potential.
'WOMEN IN BUSINESS FORUM 2015' (online tickets)
The Management Society is delighted to present the Third Annual Women in Business Forum, empowering women to progress from the classroom to the boardroom.
6 Oct 2015, 5:30-8pm, Hotel du Vin Ballroom


'Interconnect: St Andrews' 5:30pm Tue 23 April 2015
Meet Your Academics Networking event, supporting Women studying in STEM subjects (Science, Technology Engineering and Mathematics) open to staff and students at the Common Room, School of Chemistry
Join us to hear how women in academia have achieved success, what barriers they have overcome and their thoughts on the future for women in universities. Speakers include:
– Professor Dame Jinty Nelson, Emeritus Professor of Medieval History at King's College London
– Professor Ottoline Leyser, Director of the Sainsbury Laboratory at Cambridge University
– Principal Louise Richardson
– Rector Catherine Stihler
– Dame Anne Pringle
– Professor Frances Andrews
– Professor Susan Sellers
– Professor Verity Brown
– Professor Ineke de Moortel
– Professor Sharon Ashbrook
'Unconscious Bias in the Workplace: Does Gender Matter?' Delivered by Equate Scotland an interactive participative workshop addressing unconscious bias, stereotypes and cultural values focusing on staff and student recruitment aspects. 2-4pm, Wed 12 Nov 2014, Bute Annexe CAPOD Training Room 4 - Book place via CAPOD courses
'Interconnect St Andrews Women in Science' Student talk + coffee event, informal networking supporting female students studying in STEM subjects, open to staff and students more info on Facebook. Contact: Rosanna Alderson or Ondrej Hadja SA at 1-2pm, Fri 26 Sept 2014, Lecture theatre C, School of Chemistry, Purdie Building, University of St Andrews.
'Interconnect: St Andrews' - Facebook page 6pm, Tuesday 27 Nov 2012
Networking event supporting Women studying in STEM subjects (Science, Technology Engineering and Mathematics) open to both staff and students.
Parliament Hall, South Street (drinks and refreshments provided).
Staff Sign-up to become a speaker:

Are you an existing female academic working in a STEM subject at the University? If so, we invite you to give a short talk, about five minutes, about your experiences in advancing in your career. Your input in the event could prove to be inspirational to female students or to female academic staff who are new to working in STEM subjects.

Please email your interest to: Sukhi Bains sb104@st-andrews.ac.uk
Details of how this relates to Athena SWAN: Athena SWAN support
Student Contact: Amanda Litherland, Students' Association DoRep: dorep@st-andrews.ac.uk
Supported by:
Externally - Interconnect and the Scottish Resource Centre for Women
Internally - University of St Andrews STEM Schools; HR Support & Advice; CAPOD; the Students' Association.
Download flyer: Supporting Female Students in STEM Event (PDF, 302 KB)
Awareness of the event details were posted to female academic staff who were on Maternity Leave:
The Scottish Resource Centre for Women in Science Engineering and Technology (SET) approached the University to invite our staff who are currently on Maternity Leave or a Career Break to voluntarily attend a free career development workshop.

"The workshop aims to enable you to problem-solve issues which are holding you back from all that you can be. It will further develop a positive perception of your own abilities and personal strengths and help you feel more comfortable communicating these strengths."
Event: Returners Career Development Workshop
Open to: Female Academics currently on Maternity Leave or Career Break
Date: Weds 29 August 2012
Times: from 9:30am to 4pm
Venue: The Melting Pot, 5 Rose Street, Edinburgh, EH2 2PR
Cost: Free
Organiser: Scottish Resource Centre for Women in SET

For more details please contact the E&D Officer and download:
Returners Programme 29 Aug 2012 (PDF, 338 KB)
Returners Workshop Invitation 29 Aug 2012 (PDF, 258 KB)