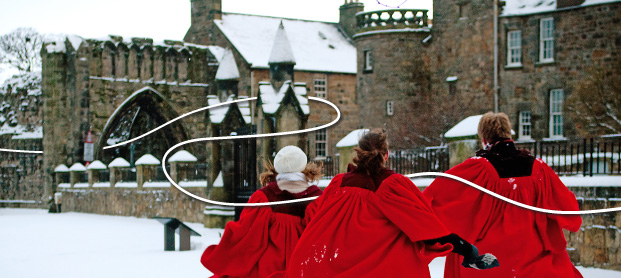 St Andrews in the News
December 2014
Welcome
Welcome to the December issue of St Andrews in the News, our regular e-newsletter for alumni, friends and supporters around the world.
News
600th Anniversary Gala Benefit

With just a few days to go before the University hosts its 600th Anniversary Gala Benefit at the Metropolitan Museum of Art in New York City, we are delighted to announce the launch of our accompanying online charity auction facility, open to all our alumni, friends and supporters.
Funds raised by the auction and Gala will support vital student scholarships and bursaries, new student sports facilities in St Andrews, investment in the University's medical and scientific faculties and a lectureship in American Literature at St Andrews.
The auction has been generously supported by the University's friends and many of its graduates and honorary graduates.Once-in-a-lifetime lots include golf experiences with Jack Nicklaus and Padraig Harrington, a literary pub crawl of Edinburgh with Ian Rankin, a VIP overnight package at Downton Abbey, and a cruise on a superyacht.
Bidding on the live auction lots (lots 1-4) is available online at gavelandgrand.com/auction/standrews until 12pm EST December 9, 2014. To submit proxy bids for these lots or bid by telephone, please contact Gavel&Grand. Bidding on silent auction lots is available for all web-based bids worldwide until 10pm EST on December 9, 2014.
We are enormously grateful to all our alumni for their support and encouragement of our 600th Anniversary fundraising drive and we aim to keep you fully informed of progress, funds raised and how these will be invested for the benefit of current and future generations of students. A limited number of guest places at this signature event remain available. Information about tickets may be obtained from Event Associates.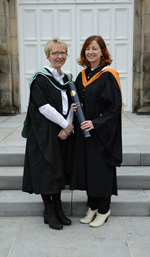 The St Andrew's Day graduation took place on Monday 1 December when almost 1000 students were conferred with their degrees. Joining this year's three ceremonies and receiving honorary doctorates from the University were renowned trumpet-player, Professor John Wallace CBE (Honorary Doctor of Music); classicist and poet, Professor Anne Carson (Doctor of Letters); and Mr John Carnochan OBE QPM FFPH (Doctor of Laws), a retired Detective Chief Superintendent with Strathclyde Police and co-founder of the Scotland-wide Violence Reduction Unit.
The Olivier Award winning Ms Bunny Christie (pictured right) was awarded an Honorary Doctor of Letters in recognition of her contribution to British theatre as a set and costume designer - a particularly fitting tribute given Ms Christie is a St Andrean by birth and some of her early work took place in the town's Byre Theatre, which has recently re-opened under University management.
Also recognised at the ceremony was Catherine Robertson, the recipient of the University Medal. Mrs Robertson retired from her role as a cleaner at the University after 38 years of service in the summer. A photo gallery of the day is available on Facebook.
Friday 19 December 2014
Westminster Central Hall
7.00pm
Are you planning to be in London just before Christmas, to meet up with old friends for a festive evening out?
Tickets are selling fast for this year's carol service in London and several seating areas in the hall are now sold out. Buy your tickets now to avoid disappointment!
We'll be welcoming graduates and honorary graduates to speak at this wonderful event to get you into the Christmas spirit. Come and listen to the alumni choir's inaugural performance and attend a reception afterwards: you'll receive a voucher with your ticket so you can pick up your free drink on arrival at the reception. There will be a ceilidh and dancing later in the evening so you can relive your St Andrews days, having a great time with friends old and new.
For a taste of the Carol Service, see highlights from our previous events.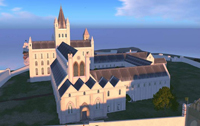 A new mobile app detailing the mediaeval roots of St Andrews has been launched as part of a collaborative project between St Andrews academics from the Schools of History, Computer Science and Classics. The app is free to download via the Google Play store and is available now on Android devices (an IOS version is scheduled to be available later this month) and features the 1580 Geddy map, generously donated for use by the National Library of Scotland, and special 'guest appearances' from honorary St Andrews alumni Sir Sean Connery and Joanna Lumley.
The app, which allows users to explore twenty-two key sites across the town via a range of interactive and media tools, is just the beginning of the project with expansion packs planned for 2015.
Global Health Implementation Programme Launch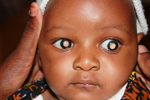 Tuesday 16 December will see the University launch its Global Health Implementation Programme. This interdisciplinary programme, led by the School of Medicine, will draw together expertise from across the University to tackle issues which affect the implementation of healthcare improvement programmes in the developing world.
Building upon the long-standing relationship between St Andrews and Malawi's College of Medicine, two new joint appointments have been made: Professor William Stones, Chair in Global Health Implementation, who continues to practise obstetrics alongside his research post; and Dr Bernardette O'Hare, who is a paediatrician and Senior Lecturer.
Discussions on the 16th will examine issues such as the impact of financial flight on healthcare deveopment, malaria, TB and the provision of ophthalmic services, and Professor Stones will present his inaugural lecture on 'Delivering Women's Health in the Developing World'.
For further information about the Global Health Implementation programme, please contact Caroline Wallard.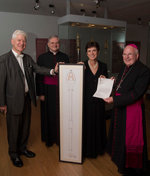 The 600th mace, which will be formally referred to as the Six Centuries Mace, is the latest addition to a collection of maces dating back to mediaeval times.
Crafted in the Edinburgh silversmiths Hamilton & Inches, the 600th mace has been gifted by the Roman Catholic Church to mark the 600th Anniversary of the University and was carried for the first time at the St Andrew's Day graduation ceremonies.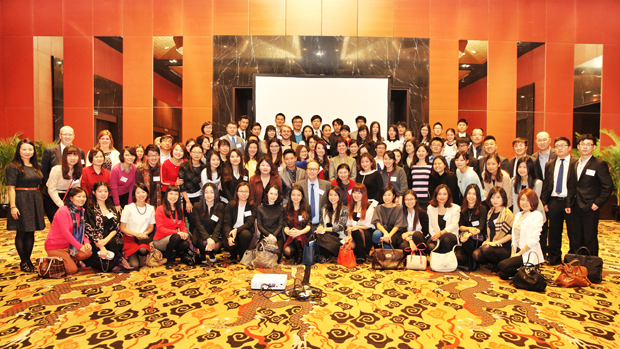 The Principal, Professor Louise Richardson, and other senior University staff, recently visited Beijing where a special reception was held at the Intercontinental Hotel for alumni, families and friends of St Andrews. The event was the first alumni gathering held by the University in China and was attended by around 100 people. Benjamin Wang of the Beijing Alumni Club welcomed the University and presented the Principal with a gift of ornate Chinese texts, and in return, an engraved quaich was given to the Club to commemorate the evening. With the alumni groups in Beijing and Shanghai thriving, all are looking forward to continuing the close friendship between the University and our alumni and friends in China.
Observing Planets and Parliament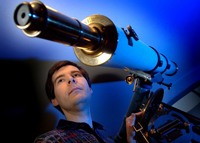 Dr Martin Dominik from the School of Physics & Astronomy has recently taken part in a unique 'Week in Westminster' pairing scheme, run by the Royal Society and designed to build bridges between parliamentarians and some of the best scientists in the UK. Dr Dominik spent time with University Chancellor, Sir Menzies Campbell MP, at the House of Commons attending panel discussions, seminars and Prime Minister's Question Time to gain a 'behind-the-scenes' insight into how scientific policy is formed in government.
Saints Triathalon: Scottish Club of the Year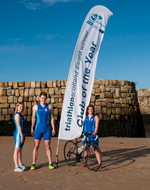 Saints Triathlon has won the triathlonscotland Club of the Year Award 2014, particularly recognising the inclusive nature of the club and its high standard of coaching.
The club is one of the newest at the Athletic Union, only just beginning its third year in existence, but the signs are good for the future with a doubling of membership numbers and titles already secured at the Scottish Student Championships.
St Andrew's Day Service on Radio 4
BBC Radio 4's Sunday Worship programme on Sunday 30 November was broadcast from St Salvator's Chapel at the University. The special service for St Andrew's Day and the first Sunday in Advent was led by Revd Donald MacEwan, the University Chaplain, and featured the St Salvator's Chapel Choir, directed by Thomas Wilkinson.
The service is available on the listen again service online (for UK users) until the end of December.
A bespoke work of art has been handed over to the University Library's Special Collections, celebrating the work of seven of the key individuals featured in the University's ancient collections. Acclaimed Fife artist Jean Johnstone, a graduate of the University, presented her hand-made, hand-lettered book to the University at a special event on Friday 28 November.
Fish Tags Create Dinner Bell Effect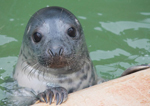 Marine biologists at the University have shown that seals can listen in on scientific equipment to find a tasty meal. Creating a maze of boxes to hide fish, researchers discovered that seals found the fish with 'pinging' tags significantly quicker than those with no tags attached to them.
Funding Boost for Carbon-Cutting Efforts in St Andrews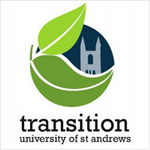 Climate Change activism in St Andrews has received a major boost, with the announcement of a £148,000 Climate Challenge Funding grant by the Scottish Government.
The funding will support a new scheme, St Andrews Towards Transition, aiming to save 300 tonnes of CO2 a year through six interlinked projects, including a 'grow your own' food co-operative and neighbourhood-based energy advice sessions.
Alumni News, Clubs and Services
Why not join us for a weekend of reunion events to catch up with old friends and perhaps make some new ones? Our reunion schedule will provide a great opportunity for you to enjoy the newly re-opened Byre Theatre, now managed by the University, explore the re-developed Students' Association and visit, once again, the much-loved St Salvator's Quadrangle, recently refurbished and at the very heart of the University.
We would love to hear from you if you are planning to join us for the weekend!
E: alumni@st-andrews.ac.uk
T: +44 (0)1334 467194 / 461913
Various venues, University of St Andrews
Friday 26 – Sunday 28 June 2015
Golf in St Andrews, Summer 2015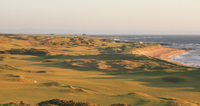 The eyes of the golfing world will focus their attention on St Andrews in July 2015 as The Open Championship returns to the Home of Golf. To celebrate, the University is holding two very special short tournament. The first sees golf at the world renowned Kingsbarns - an Open Qualifying venue - and at the historic Crail Golf Club, alongside a very special dinner, coinciding with the prestigious international universities invitational, the Boyd Quaich.
If you are going to be in St Andrews for The Open Championship in July, why not consider spending an additional few days in the Auld Grey Toon to experience this special golf weekend?
Alternatively, if you are going to be in St Andrews for Graduation in June, why not consider coming early to join us at our very special 'pre-graduation' tournament on June 20-21, taking in Kingsbarns and the Fairmont. For more details on either event, please contact the Events Team: space is strictly limited!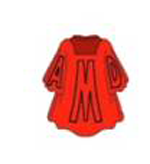 After Many Days Club: Winter Lunch 2015
The Club's annual winter lunch, for AMDC members and their guests, will be held in the Scores Hotel, St Andrews on Saturday 31 January 2015 at 12.30 for 1pm. The speaker this year will be Professor Christopher Smout, Historiographer Royal of Scotland. He will speak on the history of the Bass Rock Gannets, the subject of one of the chapters in his recent publication, The Firth of Forth: An Environmental History. Book your place early to avoid disappointment (£20 per person).
Alumni Festival 2015
Further details are being revealed for the first Alumni Festival weekend on 17-19 April 2015. Confirmed Athletic Union clubs and Students' Association societies taking part in the weekend include Football, Lacrosse, Badminton, Volleyball, Fencing, Women's Golf, Mermaids, Music is Love (formerly Musfund) and Charities. The weekend will also feature the annual Rugby 7s event at the University Playing Fields, and alumni are encouraged to join us in St Andrews.
Keep an eye out for further information in the coming weeks online and on social media.
We are very pleased to announce the first St Andrews Networking Forum hosted in Asia taking place on 19 January 2015 in Hong Kong. We very much hope that you will be able to join us at this gathering of alumni, parents, students and other friends of St Andrews for a panel discussion and reception.
The Networking Forum provides an excellent chance for curent students, home for the winter break, and alumni in Hong Kong to interact and learn from experienced alumni and parents working in different fields that are of interest. Whether you are just beginning your career or have had years of experience, we hope you will attend, offer advice and share your experiences. Further information and registration details: http://st-andrews.ticketleap.com/hong-kong-networking-night/details
---
If you would like to keep up to date with information on alumni events in the Hong Kong region, why not like the new Facebook page?
Are you based in Edinburgh? Join the New Alumni Group!
The new Edinburgh alumni group would love to hear from you if you are based in/near Scotland's capital! You can get involved or keep up to date with the club's plans via the Facebook group - including the first event, a casual drinks evening at Tonic on North Castle Street on Friday 9 January at 7:30pm.
Forthcoming events in North America
The next winter Alumni Career Forum will take place on 8 January, 2015 at PwC's headquarters in New York City. The Forum will consist of a panel discussion, followed by a networking session for students, graduates and parents. For more information and to register, please click here.
---
Networking in DC
A special Networking Happy Hour at James Hoban's Irish Restaurant and Bar, One Dupont Circle NW, Washington DC on 6 January, 2015. from 6-8pm. Come along and meet other alumni, relax and network. Co-hosted by the St Andrews DC Alumni Club and the Careers Centre.
---
Save the Date: Florida Dinner and Reception
Date: 14 January 2015
Time: 6:00pm
Location: Jupiter, Florida
Please contact Sarah Boyle with any queries on naevents@st-andrews.ac.uk
Registration information will be emailed out in the coming weeks.
---
Ancient Universities Burns Nicht - New England
The 8th Annual Ancient Universities Burns Nicht will take place on Satuday 10 January 2015 from 5:30pm at Omni Parker House in Boston. This annual dinner is organised by the Oxford and Cambridge Society of New England with many other universities represented - with an admiral representation from St Andrews each year. For more details and to book your place, please click here.
---
Save the Date: New York May Ball
Get ready to walk down memory lane - the May Ball will be coming to New York in 2015 as the second annual alumni ball, again in the Downtown Association. Further information will follow in the New Year, but for now, keep Saturdays free in May and keep an eye on the University of St Andrews Alumni Club of New York Facebook page for details.
Save the Date: Bute Medical Society Centenary Ball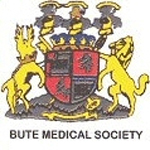 The Bute Medical Society's celebration of its centenary year will culminate in a ball, consisting of a three-course dinner and ceilidh, on Saturday 11 April 2015 at The Fairmont St Andrews. Booking information will follow in the new year.
Contact: Rachel Wood, the student Centennial Celebrations Convener.
Email: rw52@st-andrews.ac.uk
G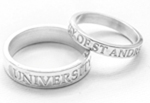 et ready for Christmas with a range of University-branded merchandise from our University retail store. We are delighted that this year we are offering bespoke University of St Andrews Graduation rings, hand-made in St Andrews, personalisable and exclusive to the University Retail Store (approx 8 weeks lead time). For further details on this and more, please visit our website.
Alumni can enjoy 10% off all items using either of the following discount methods: in store, present your SPARC card to a member of the sales team. Online, add the discount voucher code – SPARC600 – when prompted to do so.
All purchases help to directly support teaching and research at the University of St Andrews.
Events
Bright Club St Andrew IV: Duck the Halls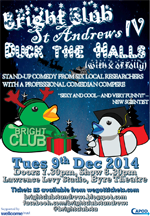 Bright Club St Andrews returns for its Christmas show: Duck the Halls!
Six local academics performing stand-up comedy about their research with a professional comedian compere.
Lawrence Levy Studio, Byre Theatre, Abbey Street, St Andrews
Tuesday, 9 December, 7.30pm – 10.30pm
Tickets available online or on the door.
The Sir Malcolm Knox Memorial Lecture is given each academic year by a leading philosopher or political theorist. This year's speaker is Michael Ignatieff, Edward R Murrow Professor at the Harvard Kennedy School, former leader of the Liberal Party of Canada, and the author of many political academic texts.
A range of seminars on Monday 15 and Tuesday 16 accompany the 30th Sir Malcom Knox Memorial Lecture: Civil Courage and the Moral Immagination
School III, St Salvator's Quadrangle, North Street, St Andrews
Monday, 15 December, 5.15pm – 6.30pm
A family celebration of Christmas as darkness falls on Christmas Eve, followed by mulled wine and mince pies.
St Leonard's Chapel, South Street, St Andrews
Wednesday, 24 December, 4.00pm – 5.00pm
Jack and the Beanstalk - Pantomime 2014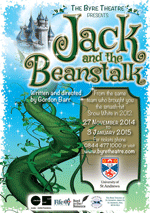 Fee-fi-fo-fum, I smell the Byre packed with pantomime fun!
The Byre Theatre is back with a magical production of Jack and the Beanstalk, written and presented by Gordon Barr. A real family treat as the audience is whisked away to the kingdom of Fantasia with singing, dancing, comedy and a little audience participation (oh no there isn't... oh yes there is!).
Byre Theatre, Abbey Street, St Andrews
27 November 2014 - 3 January 2015
Tickets available online or by calling 0844 477 1000.
Christmas closure 2014
The University will be closed from Thursday 25 December 2014 until Friday 2 January 2015 inclusive.
Exhibitions
Doctors in the Making: Medicine at St Andrews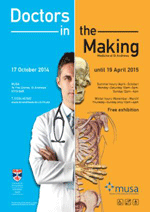 How have doctors learned to keep us fit and healthy? In this exhibition you'll discover how our knowledge of the human body and healthcare has developed over time. Rarely seen items from the University's medical collections reveal the role St Andrews has played in pioneering life-changing medical discoveries. They show how technology, equipment and the human body itself have changed the ways in which doctors treat us.
17 October 2014 – 19 April 2015
MUSA, 7a The Scores, St Andrews
Publications
Alumni Authors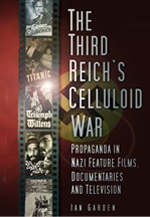 The Third Reich's Celluloid War
Ian Garden, MA 1980
Price £18.95 (Hardcover) from Amazon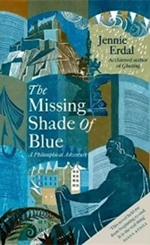 The Missing Shade of Blue
Jennie Erdal, MA 1973
Price £3.99 (Kindle edition) from Amazon
Making a gift
Our 600th Anniversary campaign was launched in 2011 by our campaign Patron and graduate, Prince William, Duke of Cambridge. We aim to secure £100 million to support a range of projects and aspirational new developments integral to the University's ambition to consolidate its status as a world-class centre for teaching and research. To view the exciting and varied projects that make up the campaign, please visit our 600th website. You can make a gift to the campaign in a variety of ways.
You can also make a legacy gift to the University to safeguard its future.
We look forward to welcoming you to our community of donors, committed to securing a seventh century of excellence for this great University.
Social networking
Alumni and friends can keep up to date with alumni activities and events online via Facebook, Twitter, LinkedIn and our blog IncomparaBubble.
Keep up to date with other University news on the University Facebook page.
US parents Facebook group is looking forward to hearing from you!
Contact details
Development Office
Crawford Building, 91 North Street
St Andrews, KY16 9AJ
www.st-andrews.ac.uk/alumni
Update your contact details
SPARC members: https://sparc.st-andrews.ac.uk/mysparc
Non SPARC members: http://www.st-andrews.ac.uk/alumni/addressupdate/

The University of St Andrews is not responsible for the content of external websites accessed via links in this e-newsletter.
The University of St Andrews is a charity registered in Scotland, No SC013532.