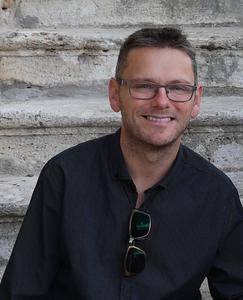 Dr Eoin O'Donoghue
Lecturer in Ancient History
Phone

Email

Office

S5

Location

Swallowgate
Biography
I undertook my undergraduate and postgraduate degrees in Classics at NUI Galway where I wrote a PhD thesis on Etruscan gender identities. I have previosuly worked in Ireland (NUI Galway), Canada at (Brock University), and the UK (King's College London). I came to St Andrews in September 2019.
Teaching
I presently lecture and teach on a number of sub-Honours modules in Ancient History and Classical Studies. I also contribute to the team-taught Honours module, Principles and Techniques in Archaeology. In 2021-22 I am offering an Honours module on the Punic Mediterranean. 
In 2021-22 I am co-ordinating ID2006: Introduction to Archaeology.
I contribute a number of seminars to various modules in the MLitt programme.
Research areas
Etruscan, Roman, and Punic archaeology and history
Italy in the first-millennium BCE
Gender and social identifies in pre-Roman central Italy, esp. masculinities
Field archaeology, esp. Pantelleria and Central Italy
My research considers the archaeology and history of the Western Mediterranean, especially Italy, in the first-millennium BCE. I am interested in questions of gender and social identities, cultural and socio-political change in Hellenistic Italy, as well as early Roman imperialism. Many of these interests derive from my ongoing archaeological fieldwork and presently I am involved with two projects. Firstly, I have been a member of the Poggio Civitate Excavation Project since 2009; the site based near Murlo (Prov. di Siena), has for over a half-century centred on the excavation of an Etruscan settlement on the hill of Poggio Civitate spanning the 8th through late-6th centuries BCE comprising a series of élite and non-élite structures. Most recently I have been working in the nearby town of Vescovado di Murlo excavating and re-examining previously excavated areas of a modest Etruscan settlement dating to the 4th-2nd centuries BCE. This forms part of a long-term plan to investigate potential dependent and subordinate communities that existed in the hinterlands surrounding Poggio Civitate. Secondly, I am assistant director for the Brock University  project on the island of Pantelleria (Prov. di Trapani) where, since 2015, I have been working on the excavation of a Punic and later Roman sanctuary site on the edge of a volcanic crater-lake, known locally as the Lago di Venere.
Current Research
I am currently in the process of completing a monograph based on my doctoral work on gender identities in Archaic central Italy, specifically examining burial and iconographic evidence during this period with a focus on the construction of masculinities and a society that revolved around a system of hegemonic masculinities.
I am finishing a volume that will publish the excavations I led of the Hellenistic period Etruscan settlement in Vescovodo di Murlo with the Poggio Civitate Excavation Project. The volume also includes the publication of previous excavations and a number of tomb groups recovered from the area.
Selected publications
The Power of Etruscan Women Revisited: the evidence from Archaic Tarquinian Tomb Painting

O'Donoghue, E. M.

,

2018

,

Papers in Italian Archaeology VII. The Archaeology of Death. Proceedings of the Seventh Conference of Italian Archaeology held at the National University of Ireland, Galway, April 16-18, 2016.

Herring, E. & O'Donoghue, E. (eds.). Oxford:

Archeopress

,

p. 191-196

6 p.

Research output: Chapter in Book/Report/Conference proceeding › Chapter

2016 Excavations at Poggio Civitate and Vescovado di Murlo

Tuck, A.

,

Kreindler, K.

,

O'Donoghue, E. M.

&

Kansa, S.

,

2 May 2017

,

In:

Etruscan Studies.

20

,

1

,

p. 35

57 p.

Research output: Contribution to journal › Article › peer-review

2015 Excavations at Poggio Civitate and Vescovado di Murlo (Provincia di Siena)

Tuck, A.

,

Glennie, A.

,

Kreindler, K.

,

Polisini, C.

&

O'Donoghue, E. M.

,

1 Jan 2016

,

In:

Etruscan Studies.

19

,

1

,

p. 87

148 p.

Research output: Contribution to journal › Article › peer-review

Spatial Interaction Simulation Methods for Ancient Settlement Distribution in Central Italy

Oshan, T. M.

,

O'Donoghue, E. M.

&

Farmer, C. J. Q.

,

2016

,

CAA2014: 21st Century Archaeology. Concepts, methods and tools. : Proceedings of the 42nd Annual Conference on Computer Applications and Quantitative Methods in Archaeology..

Giligny, F., Djindjian, F., Costa, L., Moscati, P. & Robert, S. (eds.). Oxford:

Archeopress

,

p. 631

640 p.

Research output: Chapter in Book/Report/Conference proceeding › Chapter