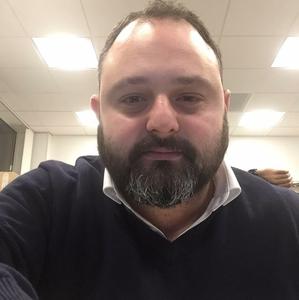 Dr Alfredo Bonaccorso
Research Fellow
Phone

Phone

Email
Teaching
Teaching experience in :
General and Inorganic chemistry
Characterization methods in organic chemestry
Electrochemistry
Catalysis
Research areas
Dr. Alfredo Damiano Bonaccorso has 7 years of experience in electrochemical characterization of fuel cell and electrolysis device and catalytic process to convert waste into electrical energy or alternative biofuel. In 2005, He was awarded a Master degree in Industrial Chemistry from Università degli studi di Catania (Italy) with specialization in polymeric material science. He was also awarded a Ph.D. in 2013 from University of St Andrews for the development of a tubular hybrid direct carbon fuel cell and carbon production from pyrolysis. DUring the PhD period, He has been also involved in development of a tubular Hybrid direct carbon fuel cell and production of different solid carbon fuels by conventional pyrolysis process. He has also been involved in the investigation of several metal catalysts for the gasification of solid carbon to produce syngas fuel for application in military technologies. He was employed at University of St Andrews as research assistant and he was involved in production and characterization of solid bio-char by conventional and fast pyrolysis of solid biomass. In 2012, He has been employed at Technical University of Denmark as postdoctoral and he was involved in the development of a high pressure set up which was able to electrochemically convert steam and carbon dioxide into synthetic fuel. In parallel to this activity, he designed and developed a novel system Integrated Reforming Oxygen Membrane (IROM) to convert glycerol into syngas. in 2015, he was employed at University of St Andrews where he is involved in several research activities focused on optimization of new catalysts and process to produced syngas from waste organic materials.
Selected publications