People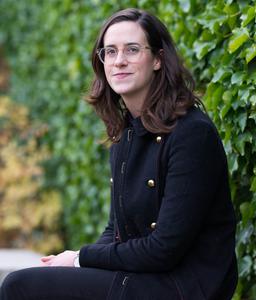 Biography
Stephanie O'Rourke specializes in eighteenth- and nineteenth-century European visual culture, with an emphasis on material and conceptual exchanges between art and science. Her research interests include the history of knowledge, the body, spectatorship, and media histories.
O'Rourke's current book project, Bodies of Knowledge: Art and Evidence at the End of Enlightenment, examines the relationship between art and the production of scientific knowledge at the dawn of the nineteenth century. Focusing on the work of Henry Fuseli, Philippe de Loutherbourg, and Anne-Louis Girodet-Trioson, the book reveals how each artist engaged with the visual, structural, and conceptual features of popular scientific discourses. In doing so, it identifies some of the ways that artworks were critical actors in a larger epistemological transformation taking place at the twilight of European Enlightenment.
She is also currently at work on two other projects: the first investigates changing conceptions of geological and historical time in the early nineteenth century, and the second addresses the role of media history in contemporary art in Scotland.
O'Rourke holds a PhD from Columbia University and a BA from Harvard University. Her research has been supported by fellowships and grants from the Social Science Research Council, Yale Center for British Art, Pierre and Tana Matisse Foundation, Cathedral Fund at the Royal Academy, Mellon Foundation, and Columbia University. From 2013 to 2014, O'Rourke also worked at The Museum of Modern Art as a Museum Research Consortium Fellow, where she helped organize the exhibition Degas: A Strange New Beauty with senior curator Jodi Hauptman.
She welcomes enquiries from potential postgraduate students interested in eighteenth- and nineteenth-century visual culture and science, technology, and society.