People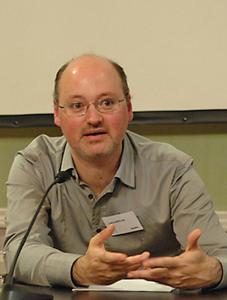 Biography
Luke Gartlan is the Director of the History of Photography programme in the School of Art History. He is the author of A Career of Japan: Baron Raimund von Stillfried and Early Yokohama Photography (Brill, 2016), which received the Josef Kreiner Award for International Japanese Studies from Hosei University, Tokyo, and has co-edited two books: with Ali Behdad, Photography's Orientalism: New Essays on Colonial Representation (Getty Research Institute, 2013) and, with Roberta Wue, Portraiture and Early Studio Photography in China and Japan (Routledge, 2017). Since 2013, he has also served as Editor-in-Chief of the peer-reviewed international quarterly History of Photography.
Luke teaches nineteenth-century visual culture, with an emphasis on photography, cultural exchange, and empire in nineteenth-century art, especially with reference to the camera's role in colonial-era visual culture, histories of travel and exploration, and non-Western responses to photography. He is also engaged in research on Japanese modern visual culture and Japanese-European artistic interactions, as well as the visual cultures of the Habsburg and British empires.
Luke received his PhD from the University of Melbourne in 2004. He subsequently taught at the University of Sydney and held postdoctoral fellowships at the University of Vienna and Nihon University, Tokyo, before arriving at St Andrews in 2007. He has held fellowships from the Japan Society for the Promotion of Science (JSPS), the Arts and Humanities Research Council (AHRC), the Australian National University, the National Library of Australia, and the Daiwa Anglo-Japanese Foundation, among others, and is regularly invited to speak at international research centres around the world.
At present, Luke offers the modules 'Orientalism and Visual Culture' (AH4148), 'Histories of Photography, 1835-1905' (AH4166), 'St Andrews Photography Collections' (AH5140), 'Imperial Lens: Readings in Nineteenth-Century Asian Photography' (AH5141), and 'Issues in Photographic Criticism' (AH5146). He welcomes enquiries from potential students interested in pursuing postgraduate research related to his fields of expertise to contact him directly at the above email address.